MILITARY DIVISION
Fabrics for Military, Law Enforcement, and Tactical Applications
When freedom is challenged and our soldiers are called to action, they need fabrics that protect. Having mastered over sixty military specifications, Brookwood's Military division provides superior quality fabrics with seamless, reliable production. There is a reason we are one of the largest suppliers of textile to all branches of the U.S. armed forces. We help prepare our soldiers with cutting edge technology and unparalleled manufacturing. Whether you need everyday personnel wear or highly specialized combat gear, Brookwood Military gives you fabrics that protect.
There are no upcoming events at this time.
Inquiry
Reach out to us for any inquiry you may have or call our toll-free number at 1-800-225-5650.
END PRODUCTS
We provide Fabrics for Military, Law Enforcement, and Tactical Applications.
MODULAR SCALABLE VEST (MSV) GEN II

Brookwood is a proud supplier to the US Military. Our fabric Squadron™ has been used by our military for over four years in all manner of gear. It is with honor and pride that we know we play a part in our soldier's safety, service, and comfort. Squadron™ is known for its' strength, durability, and abrasion resistance combining two fabrics that have the benefit of also being laser cuttable. Squadron™ is a proven choice when combatting the elements. Squadron™ is currently used in Backpacks, Military Armor Vests, Tactical Armor Vests, MOLLE Systems, Pouches, and Kit Bags.
All of us at Brookwood are honored to help in service to our Soldiers and Military.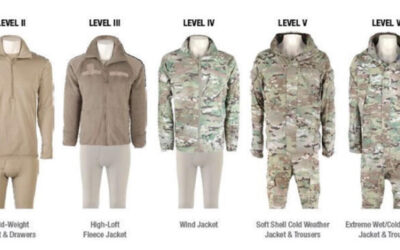 Generation III Extended Cold Weather Clothing System
Brookwood is a premier military fabrics supplier for contractors providing branches of the U.S. Military with the latest technical fabrics. Brookwood has successfully worked to meet a number of specifications for the U.S. Army's Generation III Extended Cold Weather Clothing System (GEN III ECWCS). GEN III ECWCS comprises a 12-piece kit that allows Soldiers to use seven different layers, depending on the environment.
According to the PEO Soldier,"by mixing and matching Gen III ECWCS components, Soldiers can protect themselves from weather conditions ranging from 40 degrees Fahrenheit to as frigid as minus 60 degrees Fahrenheit."¹ With its dedication to innovation and commitment to the Military supply chain, Brookwood is now the largest fabric supplier for GEN III ECWCS Levels IV, V, VI, and VII collectively.