ROLL GOODS DIVISION
Fabrics that are rolled and ready to ship, whenever you want, anywhere in the world.
You need fabric and you need it now. Our Brookwood® Roll Goods Division is prepared to give you immediate results for fill-in yardage or short lot quantities. With our extensive in stock, short-lot inventory of woven nylon and polyester fabrics in virtually any color and designed for many end uses, Brookwood® Roll Goods gives you the quick response essential for your market. Our sales and distribution teams are deployed on both east and west coasts to make sure you get fabric on the day you need it. Whether you need activewear, sportswear, fashion, medical, technical, military, tactical, or uniform fabric, Brookwood® Roll Goods is your source for fabrics that are ready.
There are no upcoming events at this time.
Inquiry
Reach out to us for any inquiry you may have or call our toll-free number at 1-800-247-6658.
ROLL GOODS PRODUCTS
Fabrics that are rolled and ready to ship, whenever you want, anywhere in the world
Fabrics made of Recycled Materials

Military and Tactical Bulletproof vest
Low-Lead and extremely durable
Fabrics made of natural materials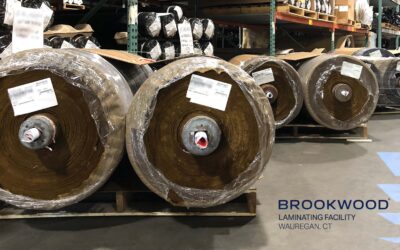 With the goal of finding eco-friendly packaging at our Brookwood Roll Goods facilities, Carol Senechal, Warehouse/Traffic Manager, contacted our packaging representative to enquire about pallet wrap options. Looking to find lower gauge plastic wrap in order to help reduce our carbon footprint with less plastic, we were presented with options; one was 51G, the other was 63G and one biodegradable. We were able to choose the 51G option which performed the same as our 80G thereby reducing our plastic output significantly. The other two choices were not compatible with our wrapper due to roll sizes. All of us at Brookwood always have an eye on the future of our planet and what we can do to help.
Brava to Carol!
Brookwood Companies is a recognized leader and proud partner of MultiCam® fabrics and the Brookwood Roll Goods Division is your source for rolls that are ready to ship. Our MultiCam® line is offered in MultiCam® Classic, MultiCam® Black, MultiCam® Alpine, MultiCam® Tropic, and MultiCam® Arid and this line continue to grow to match the demand. Contact us to receive swatch samples of MultiCam® in varieties ranging from 40 Denier to 1000 Denier, ripstop, stretch, mesh, and more.
Our mission is to make fabric sourcing easy for our customers. Being in the forefront of the textile industry, our curated stock line serves many industries. While specializing in bag and military, Brookwood Roll Goods also taps into apparel, tactical, industrial, medical and continues to expand to meet the trends in textile. In addition to being the preferred supplier for in-stock fabric, our knowledgeable team of experts will bridge the gap to procuring custom colors and new fabrics for all your projects. We have a global customer base and pride ourselves in excellent customer service. Contact us today for prompt pricing and availability.